This is my Monkey: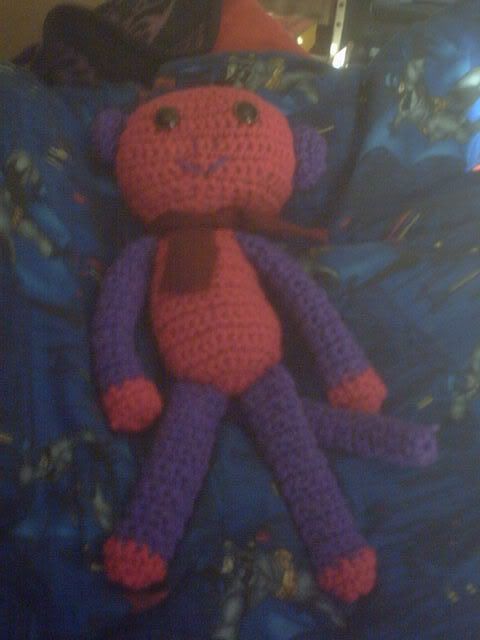 Finished mear moments ago, she is seen here, resting against one of my 2 large Batman pillows I made for our first appartment over a year and a half ago.
She is made of red heart sport weight scraps of an afghan, and the pattern Funky monkey from Mr. Funkys Super crochet wonderful by Narumi Ogawa.
I still have plenty of left overs I may make more. I also want to make Le Hamster out of some Cotton Ease scraps I have.
I made a voiage to Eau Claire with Mom and Aunt Lisa (thanks again for lunch if your reading!!).
I got some awesome fabric at a fabric store just blocks down from Yellow Dog knitting, that I had never seen before even though I'd been past several times and oddly enough never seen it before.It's also a little gift store.
Now I'm saving some money because I want one of there Boyds bears. I have some smaller ones, but I REALLY want a larger one.
I also got some Swedish sock yarn recently available at Yellow dog. Self striping with an awesome blue with a black and white jaquard stripey thing going on. I cant wait to cast on!
I'm also trying to make tiny sock ornaments for our tree this year, But I'm not going to kill my self over it.
I really want to work on Bradys sweater, as it has been good to me and hasn't forced me to tears and a time out in the dresser.I may pull that out and give it some love later.
I also got the yarn for Bris sweater.Vannas choice ( I think I may have a problem..) Pink, Her favorite color. :)
Thats all for now,
TTYL