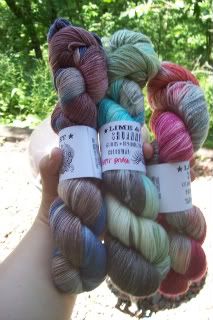 Lime and Violet Shuanmi sock! In the colors Country mouse, Happy Bruise and Shiny!
It is SO soft and squishie!! I LOVE IT! The colors are amazing!!
I just placed another order 2 more for Shanmi and 2 more sasquatch sock. I had a $25 credit, I thought I'd make it worth it. Especially after my mother made me upset but let us not go there. :)
Lime and Violet are my favorite dyers around. They are just amazing!
TTYL