*giggle*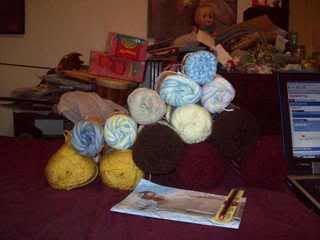 The 2 claret and 2 mustard are for my b-i-l's blanket.The 2 coffee are for my sisters afghan. 1 skein cotton tots for a boarder on the wretched cotton tots blanket that pills if you look at it wrong.I will never use this yarn again. 6 skeins dish cloth cotton.1 N sized crochet hook and a Patons booklet with an awesome cabled sweater in it.
Red hart super saver $4 for 2 skeins, Vannas choice $5 for 2 skeins, Sugar and cream $5 for 4 skeins. Claret and Mustard are the perfect combo for 49ers colors!
I really haven't been this happy in a long time. I'm looking forward to my knitting, my weddings coming up and Stu and I are looking at houses. As well as thinking about babies and looking at better jobs. I'm in a good spot right now and I'm enjoying myself.
At least I didn't buy anything with out a purpose!