I placed an order with the Loopy Ewe tonight. 2 Sekina needles superwash merino rovings, and a couple pairs worth of sock yarn and some needle protectors. $76 total.
So heres the challenge, finish these socks: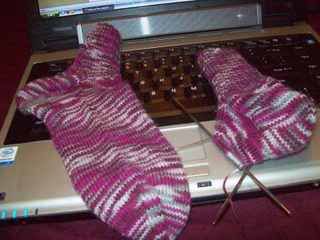 Before my order gets here!Can my socks beat Sheri to the post office?
Will I get distracted by the malabrigo that just came in today to finish my sweater?
Will I stop and make millions of yo-yos until my fingers bleed from some awesome scraps sent to me by Sugarmagknowya ?
Only time will tell...