Finished the acrylic hoodie, ran out of yarn for the hood, so it's a not-so-hoodie, still looks cool and is totally wearable.
Also finished is this quickie scarf for a friend. I felt like knitting with broom sticks and rope IE size 17 needles and bulky yarn. This was just the ticket!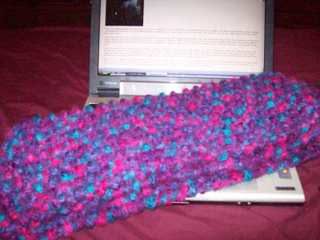 I got an e-mail, the order has shipped, I'm 20 rows from the toe. Will I make it? Only time will tell!