I have delved into my dish cloth cotton stash and produced these: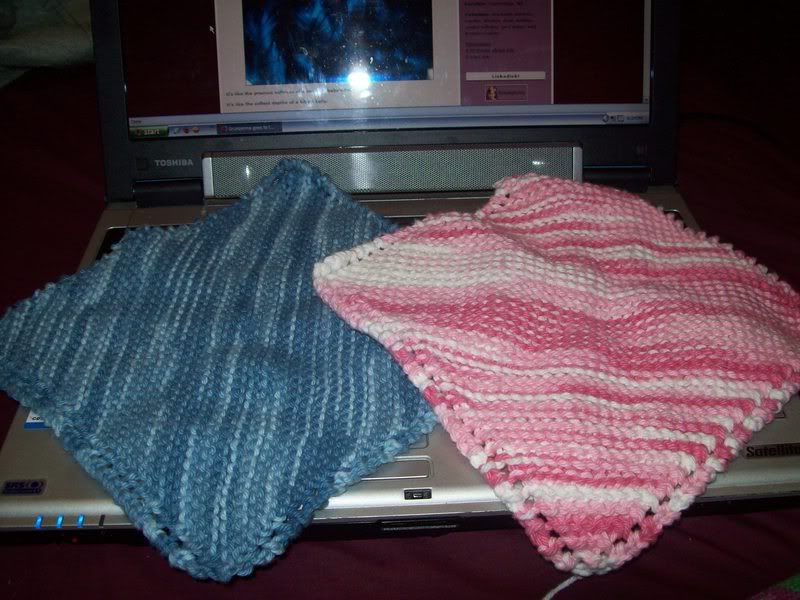 2 down 38 more to go!At approx 95 yards a skein that's 190 yards out of my 1000 yard goal for January.I want to knit at least 1 dish cloth a week until my dish cloth cotton is GONE. I myself think 38 skeins of dish cloth cotton a little foolish even if I do make them to sell.I'm knitting a 3rd as I'm typing this. I tend to go on sprees where I knit nothing but wash cloths for months on end.I'm hoping this is what this is.It would sure help!
I'm 9 skeins in on Brittneys blanket, 9 more to go! I'm 1/2 way there!Whoot!
I haven't set down and worked on it really, but I want to have it done by the end of the month.
I've also dug out the Babette blanket that will be for Briana next Christmas.
I have 24 of the 50 small grannys done. This may accompany me to work one day.We will see.
I've joined Secret of the stole 2, I've never knit lace before of any kind so this will be fun!
I have pegged the Lagoon yarn for a pair of crochet house socks,but I want to finish Brittneys blanket before I start them.
ttyl