I found this on http://nownormaknits.typepad.com .
I will send a handmade gift to the first 3 people who leave a comment on my blog requesting to join this PIF exchange. I don't know what that gift will be yet and you may not receive it tomorrow or next week, but you will receive it within 365 days. That is my promise. The only thing you have to do in return is pay it forward by making the same promise on your blog.
In other news , I got a new camera!
It was 89.94 and 12.88 for the 2gb memory card.It takes WONDERFUL pictures! I also got my employee discount ($10 off by the time I was done!)
It is a kodak easy share c713, there was 3 left on the shelf, I totally expected there wouldn't be any left ( I was NOT getting up at 4 am to get this thing) The fact that there was still some left 16 hours after the sale started tells me it was fate for me to have one!
Heres a picture of the box and my pointy kitty I made this past weekend , I used felt and blanket stitched her up, felt and tiny buttons for the eyes, so cute!I used this pattern:
http://weewonderfuls.typepad.com/wee_wonderfuls/store/downloads.html
This pic has no alterations takin inside with BAD lighting. Still looks ok I think!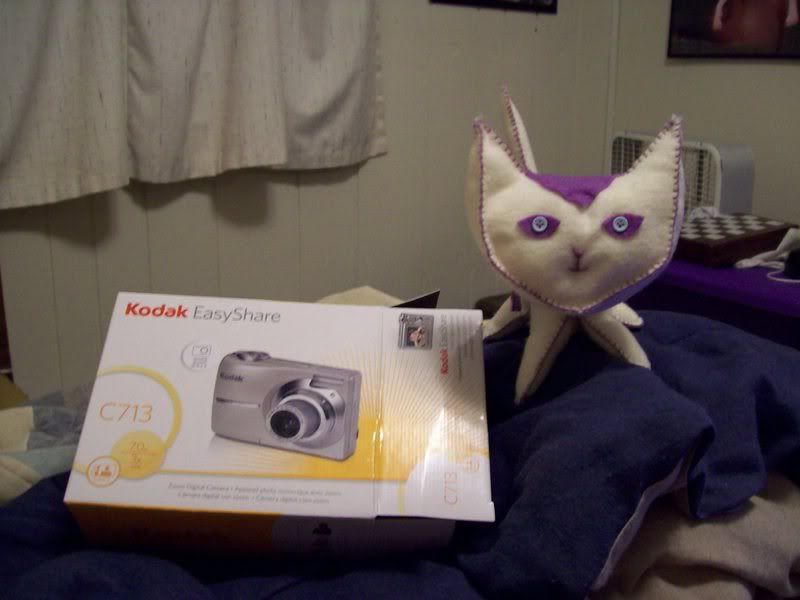 I've also been working on my sock yarn blanket. I think I've put 10 more squares on in the past week?!
Any way just wanted to post and say hey.
TTYL
Hayley