This is what happens to me, I work for months and months (In this case since December)on the first sock then the second sock takes like 5 minuites.
Here are my mothers day socks for my mom: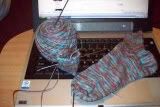 Not quite finished yet huh? The second sock takes a lot less time than the first, so hopefully I won't be to late on the M-day socks.
In the mean time I hit up Yellow Dog for some of there wonderful Fable sock yarn: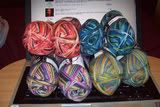 I think I'm going to join the 52 pair plunge this year. I have plans for a lot of worsted weight wool socks for my charity project. It would be very good motivation to keep up!
TTYL