I altered knittin moms tiny sock pattern and here are my results, changes include non-ribbed top and a heel flap: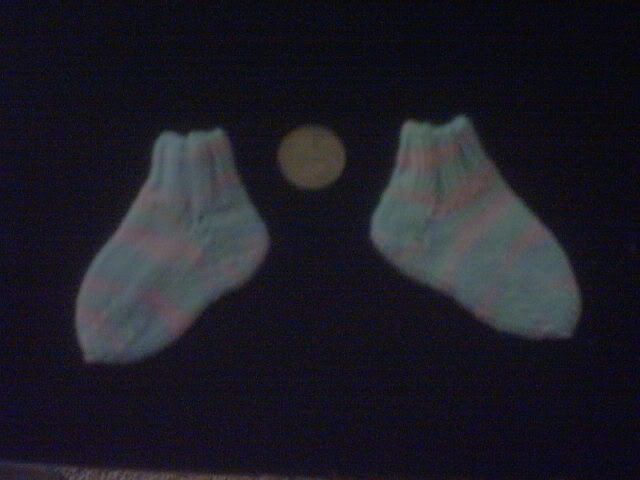 Pattern:
Preemie socks, quarter for scale
Yarn Plymouth yarn Dream Baby D.K. 50% acrylic micro fiber 50% nylon
Size 3 needles set of 4
Co 24 sts distribute evenly across needles 8/8/8
1-10 k2,p2 around
11-18 knit 12 sts ,turn purl back
19 k6 , k2 tog, turn
20 k3 k2 tog turn
Continue in this way knitting 2tog across the gap until 8 sts remain
21 Pick up 4 sts on each side of the heel flap
22 Knit to 3 sts before needle change k2 tog knit across top needle k1, k2 tog k to end
23 Knit across all needles
24-26 Rep rows 22-23 once more 24 sts remain
Knit across all needles for 12 rows
Shape toe:
27 Knit to last 3 sts k2 tog ,k2, k2 tog, k to last 3 sts on needle k2 tog ,k 2 k to end of needle
28 knit across
Rep rows 27-28 until 4 sts remain cut yarn,
Run yarn threw sts pull tight fasten off yarn, weave in your ends
Enjoy tiny socks!
I have a few more tiny things made and a few more in the works.
I also managed to cut up 2 yards of fabric that my sister asked me to months ago.
Another thing checked off the list!
TTYL