It has been a long weekend. Hubby and I took off the weekend and went to the Ren fest in Chippewa on saturday.
We didn't do much the past few days.Today we went and I got to go to the yarn store! I love going to Yellow Dog.As much as I like online shopping, there is nothing like good customer service and Yellow Dog has it.
I got this at Yellow Dog: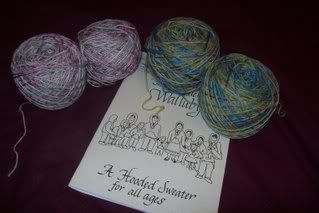 2 skeins Koigu,2 skeins Lornas Laces is the "Franklin" color way and 4 more skeins of Noro silk garden not pictured, because they are the same color as my sweater.As well as the pattern for wonderful wallaby! I also ordered a sweaters worth of yarn, but we are not talking about that yet!
Then at Boarders I got Creepy Cute Crochet, I've been looking for this book for a long time and can't wait to start using it!At Michaels I got Amigurumi World Seriously cute crochet. (can you tell I really like amigurumi?) a bernat pattern booklette and a sweaters worth of wool ease in dark rose heather.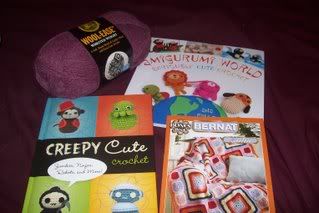 I also ordered the last 2 skeins of Dream in color for my other sweater and some J. knits sock yarn today. :)
I consider this all yarn therapy after having to deal with my mother this morning. Lets just say I wont be talking to her again for a very long time.
TTYL